Antiques are my specialty
Prior to repair and restoration work I built custom furniture for more than twenty years. My furniture was made of solid woods with traditional joinery- hand cut dovetails, mortice and tenons, etc. With my knowledge of furniture construction, the working characteristics of various woods, hand tool usage, adhesives and finishes I have a great understanding as to why furniture breaks and how to properly repair it. In the case of antiques, repairs are made using period appropriate methods. If parts are missing, replacements can be made or found. This level of knowledge, experience and craftsmanship sets me apart from most refinishers.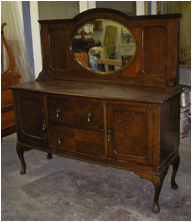 Stripping is done using one of, or a combination of, several methods of hand stripping. This is usually determined by the condition or construction of the piece itself.
As for finishing, the process starts with a light sanding then, depending on the client's requirements, it may be followed by a dye for background color, stain, a sealer, finish, glaze and a few more coats of finish. Frequently there is a light sanding between these steps and then the final coat is hand rubbed. To stay as environmentally friendly as possible I usually use water-based finishes.